How to Teach a Bible Study Lesson
Teaching tips for how to teach a Bible study lesson
Shortly after becoming a Christian, I realized the importance of knowing how to teach a Bible study lesson. Like most, I wanted to grow in my relationship with God, so I began attending Sunday school, Bible studies, and a few other small groups. Even though each study was helpful, only one of them challenged me to my very core. At the time, I didn't know why this teacher was different than the others, I only experienced his impact in my life.
Over time, as I myself began to teach, I realized that challenging and developing listeners' beliefs, thoughts, attitudes, priorities, values, and actions requires more than providing information and explanation. Instead, it involves integrating different teaching principles throughout the Bible study, many of which are not easy to see at first. For the casual observer, an effective Bible study looks just like any other Bible study: people arrive, sit down, listen to an inspirational Bible study, leave, and over time, their lives change.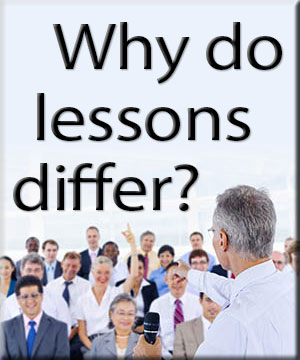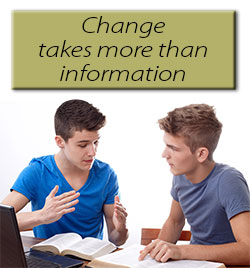 Seems simple enough. However, what they don't notice is how the Bible study teacher integrates teaching principles throughout the entire lesson. When a teacher knows how to teach a Bible study lesson, the teaching principles are invisible and the Bible study just works. When a teacher does not know how to teach a Bible study, the teaching process comes to a grinding halt.
How to teach a Bible study using transformational teaching principles
So, let's look at how to teach a Bible study. Here we will look at the seven teaching elements that should be in every Bible study that has transformation as its main objective. For a fuller discussion of each teaching element, please see the second book in the Teaching To Transform Not Inform series. It covers these teaching elements in-depth, why and when you should use them, and how they will impact your listeners. Each book in the series builds upon previous ones and discusses additional teaching principles along with methods and techniques you can use to integrate them into your lesson.

How to teach a Bible study Tip:
If you want listeners to remember your lesson, give them a picture; if you don't mind them forgetting, abstract truths work just fine.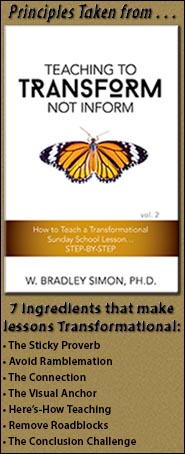 How to teach a Bible study that is more transformational than informational
The teaching elements that change informational Bible studies into transformational ones include the following:
Sticky Proverb:
A short, memorable proverb that clearly states the passage's central truth and application.
Ramblemation:
Transform lives with lessons focused on and centered around the Sticky Proverb.
The Connection:
Instantly grab and hold attention by connecting listeners to the Bible study's application and relevance.

Visual Anchor:
The visual, concrete image, object, story, illustration, analogy, example, metaphor, testimony, or real-life situation that depicts the lesson's Sticky Proverb in a ridiculous, crazy, impossible, illogical, absurd, disproportionate, exaggerated, or animated way.
Here's-How Teaching:
The thorough, applicable explanation of the biblical text that directly supports the Sticky Proverb.
Roadblocks:
The challenges, experiences, misunderstandings, justifications, rationalizations, and objections the teacher helps listeners remove so they can integrate the truth into their life.
The Conclusion Challenge:
Summary of the most important points and the challenge to apply them.
For additional principles for how to teach a Bible study lesson, see the Teaching To Transform Not Inform series
Learning how to teach a Bible study that integrates these teaching elements is not difficult, but it does take a little explanation. And, of course, this is the goal of the second book in the Teaching To Transform Not Inform series. Each chapter covers one of the teaching elements showing you the most effective way to incorporate the principle into your Bible study, why and when you should use it, and how it will impact your listeners. It doesn't take long to read and if you teach on a regular basis, it is well worth your investment.
---
---

Find more links on how to teach a Bible study lesson, see the following:
Additional Topics for how to teach a Bible study lesson

| Book 1 Topics for: How to teach a Bible study lesson principles and how-to techniques | Book 2 Topics for: how to teach a Bible study lesson |
| --- | --- |
| How You Teach More by Teaching Less | The 7 Ingredients of a Transformational Lesson |
| How to Become One of the Imperfect People God Uses | The Sticky Proverb |
| Create a ripple that continues into eternity | The Visual Anchor |
| how to effectively teach a Bible study lesson by avoiding ramblemation | Avoiding Ramblemation |