Each Seminar Builds Upon Previous Ones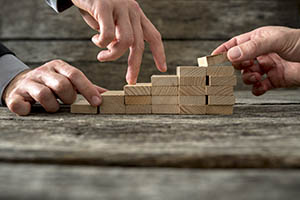 Each seminar within the Teaching To Transform Not Inform series builds upon previous ones so teachers have a linear path for developing more and more advanced teaching skills. For example, the first seminar (Foundational Principles for Making an Informational Sunday School Lesson...TRANSFORMATIONAL) covers the major biblical principles and concepts related to teaching the head and the heart. It looks at the attitudes, priorities, goals, and foundational principles that help you maximize your impact as a teacher. Then, the second seminar (How to Teach a Transformational Sunday School Lesson...STEP-BY-STEP ) assumes teachers already understand the content within the first seminar and builds upon it by giving them a simple, practical, step-by-step process for teaching transformational Bible lessons. It explains the seven teaching elements that should be included in every lesson that has transformation as its main objective.
To learn more about hosting a live Teaching To Transform Not Inform seminar, click the button below to fill out the Hosting a Conference Inquiry Form and we will contact you to answer any questions you might have!